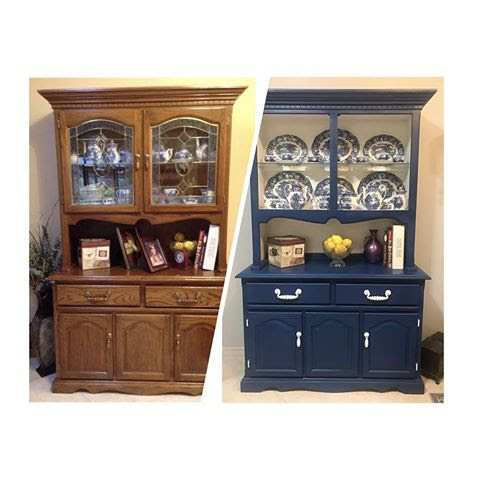 I have had this hutch since the early 90's. We did a dining room makeover and the hutch stuck out like a sore thumb. New furniture is expensive, so… I had this idea to paint it blue to match my mother-in-law's antique dishes she gave me. The dishes are about 45 years old. My mother-in-law had a bed and breakfast in Germany. It amazes me how the dishes are still in such good shape. We love using these antique dishes in our everyday life,!
Though My mother-in-law and my hubby both thought I was crazy! I decided to go for it. I used blue and white chalk paint. The blue matched the dishes very well. I thought the inside needed paint too, to cover all the oak look. It wasn't too easy painting the inside but the outcome was worth it. I used a wax to seal the paint.
It was time to paint the doors… I really am not a fan of the style of glass in the doors, so I decided to just leave them off. Patching holes is really not that hard. I was so curious to see what the family would think. And once again, I showed them that I know what I'm talking about..(ha,ha). My hubby and his mom both loved it. (Thank God!)
I guess what I'm saying… Before you spend a ton of money, transform a piece you already have. The time and resources you spend is well worth it. The way I look at it, I can spend that money on vacations instead of new furniture.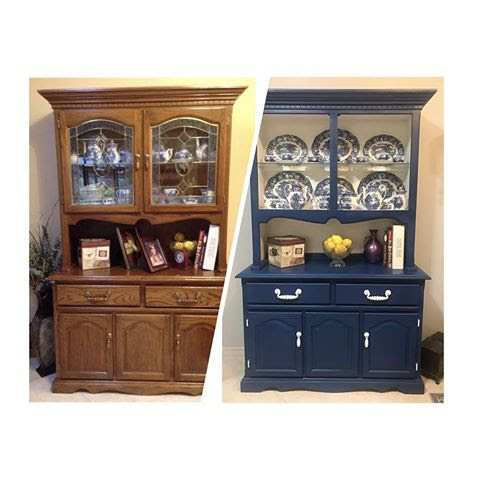 show